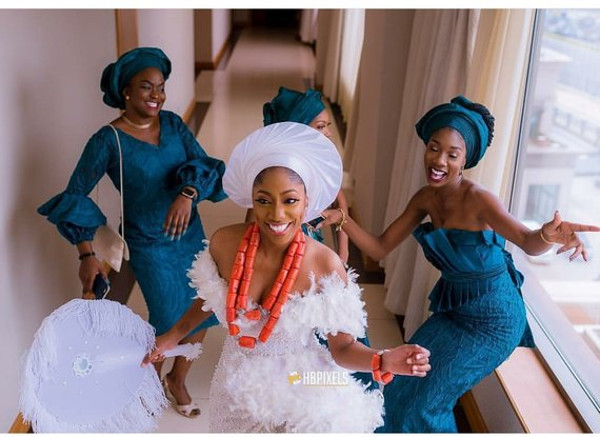 Last week, C'amaka Bespoke Pieces explored the various types of Nigerian traditional bridal hand fans. This week, C'amaka Bespoke Pieces explores what makes a hand fan what it is.
Enjoy!
The material used to create hand fans have evolved over time and is constantly evolving. Back in the day, these pieces were basically made with Sinamay, Millinery mat, aso oke fabric and the likes. However, in recent times, hand fans are made from pretty much any and everything from fabrics, petals, straws, leathers, feathers, paper and more. The rule these days seems to be "Just grab any material and get creative!" and it's not compulsory to stick to one pattern; different materials can be combined to get the desired outcome.
Feathers are commonly used to create hand fans these days and are available in different forms such as fur trims, fur feathers, coque feathers, ostrich feathers, ostrich fringes, peacock feathers, pheasant feathers, etc.
The embellishments on hand fans also vary depending on taste, style, and many other factors. Traditional bridal hand fans can be embellished with stones, pearls, fabric trims, brooches, patches, placements, silk flowers, tassels and more.
The use of tassels for hand fans, gele (traditional head-ties) and clothes are more common these days. In the past, they were used only on curtains and to style furniture. Tassels come in different patterns, colours and lengths. They are made from wooly and metallic threads and very much made (hand-tied) in Nigeria.
I got the inspiration to use tassels on hand fans from a piece I saw in Dubai. It looked so nice and regal so I decided to try it on a piece and perhaps the trend took off from there.
C'amaka Bespoke Pieces offers a number of hand fan patterns; some of the most popular ones include the 180 degrees, the ombre effect and the peacock hand fan.
The 180 Degrees hand fan comes in two styles; one with a handle and the other without a handle.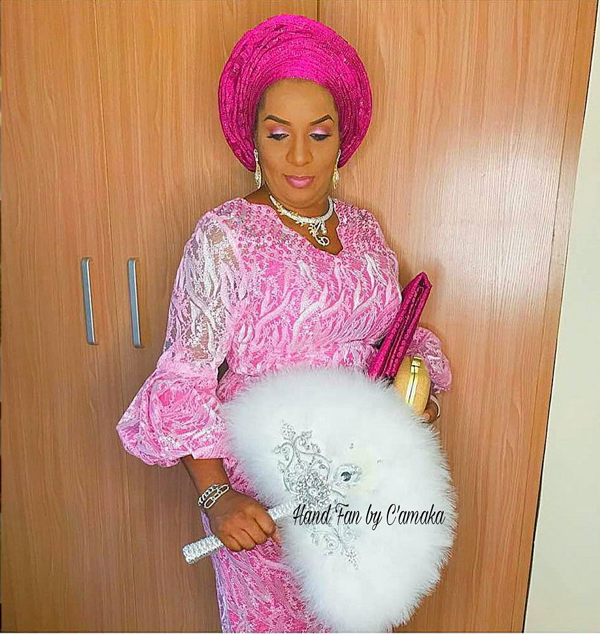 The 180 degrees hand fan without a handle takes the very basic shape of the hand fan, which everyone has been familiar with from inception. As the name implies, this hand fan is shaped like a semicircle and comes in two patterns; The full moon style (where the entire hand fan base is covered) and the half moon style (which leaves a hand space on the base uncovered).
The 180 degrees hand fan with a handle has the same pattern described above; however, it also comes with a long handle and a different base. It is also available in both the full moon and half moon styles; even though the full moon is the most popular.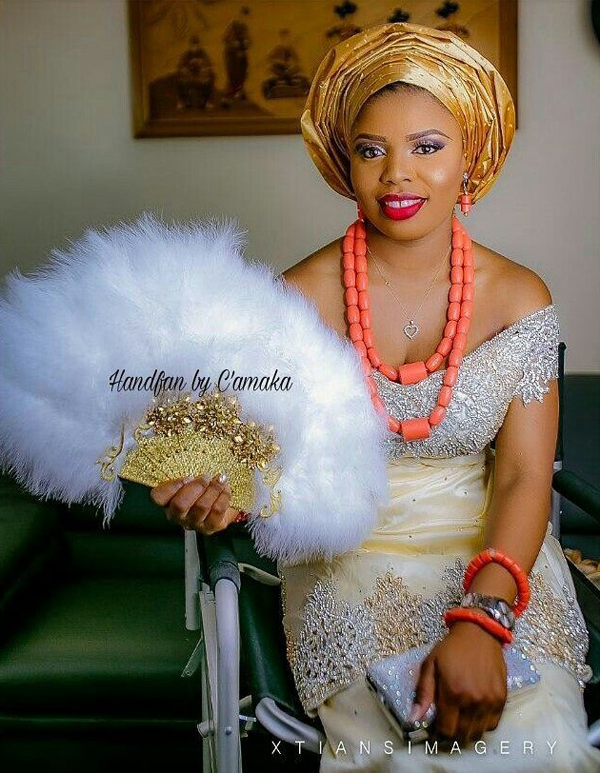 The grip pattern hand fan: This pattern was inspired by a piece rocked by the stunning Chief Mrs Okoya Thomas. It comes in the same shape as the 180 degrees pattern but has an opening around the hand space, which allows the fingers and palm grip onto it just like you grab the conventional clutch purse.
The 360 Degrees hand fan with a handle: The quest to come up with something different birthed this hand fan pattern and since the first one was created, it has been trending, which means its here to stay. With this pattern, there are no full and half-moon styles like the patterns above. It is usually fully covered and any of the materials listed earlier (Sinamay, Millinery mat, aso oke fabric, etc) can be used to create it. The base of these hand fans can be made with various items but at CBSP, the bases are intentionally built with a long-lasting material; bearing strength (to carry whatever is laid on it) and durability in mind.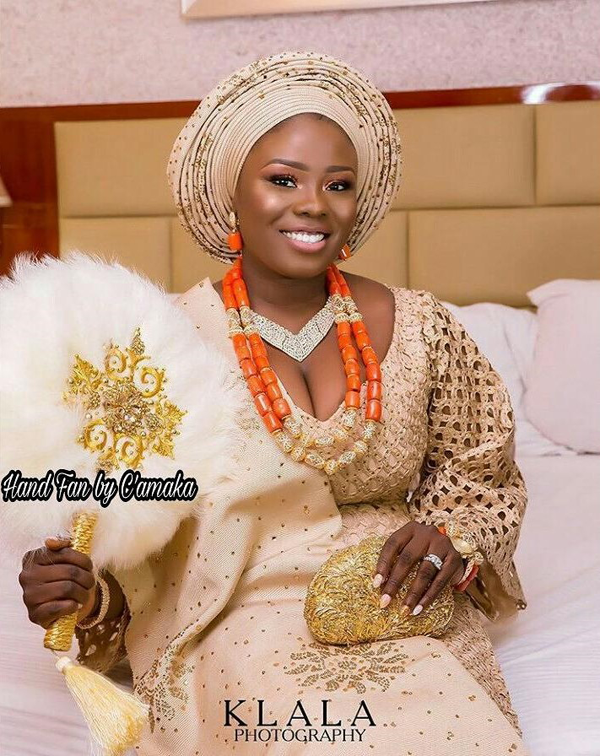 The Ombré effect hand fan: You can already tell what this pattern is all about, just from the name, right? This pattern of hand fans is another brainchild of CBSP. It is a pattern of hand fan made in such a way that the primary material shade graduates from dark to light or vice versa. For this pattern, the colour flow is key. Attention must be paid to the choice of hues because not all colours are feasible to create an ombré effect.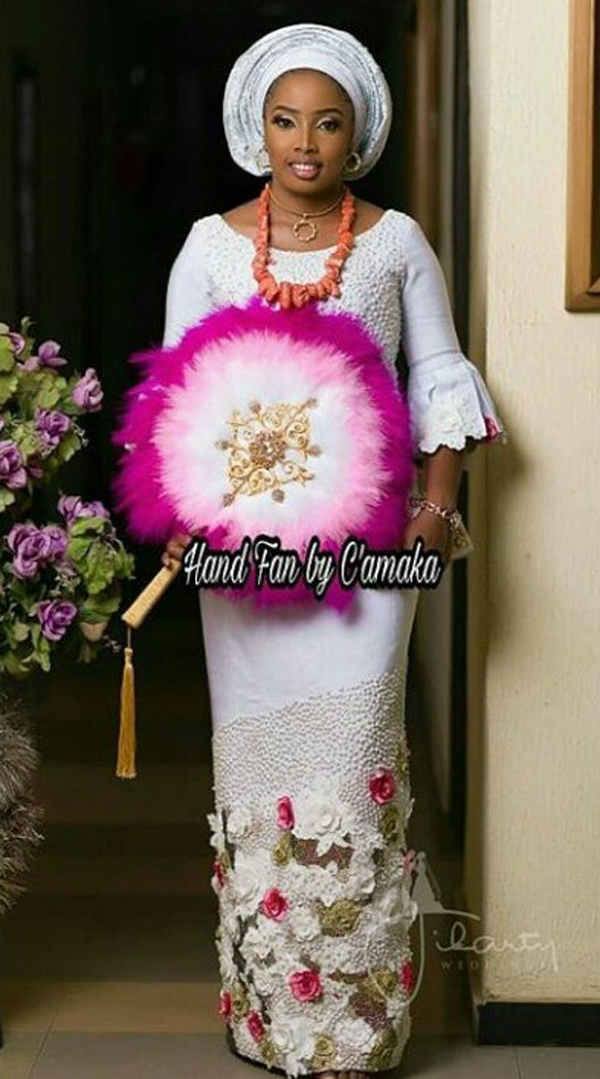 I've had a number of interesting requests for hand fans with the ombré effect. A bride once asked me to create a hand fan with fuchsia pink, royal purple and red because she wanted to use one hand fan for all three outfits. This wouldn't work with the ombré hand fan effect pattern so please don't do it!
The Peacock Feathers hand fan trend: Peacock feathers, though very tender and sensitive, are so elegant, just like the birds. I refer to this pattern of hand fans at CBSP as The Vintage hand fan. Peacock feathers have been around for a very long time and have been used a lot in the past but as we all know, the typical Nigerian would not accept trends until an influential person 'louds' it.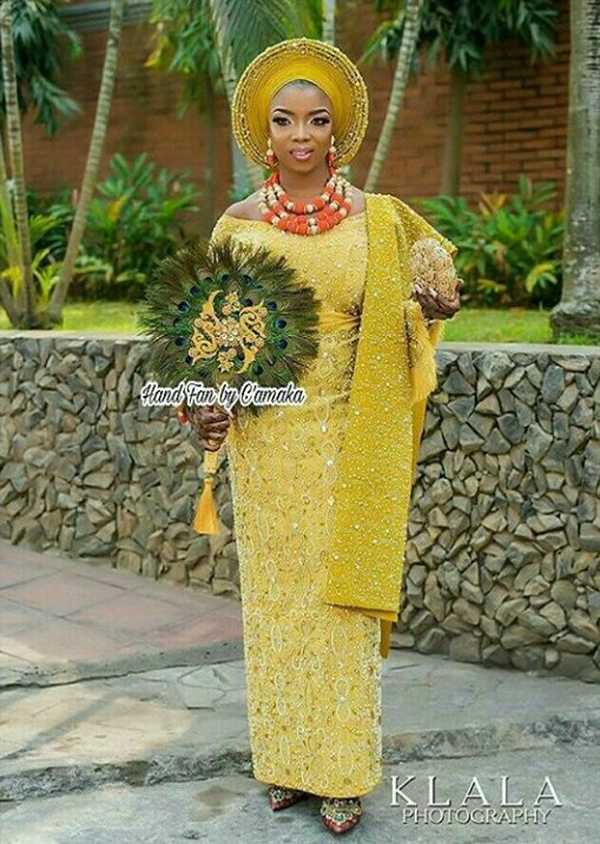 Alas! The peacock feathers hand fan trend completely took over after an influential person rocked it for her wedding. Immediately the photos went viral, an aso oke vendor came to me with a request to create it and I replicated it in green for her. Then came another Yoruba bride who wanted a green one; then an Igbo bride wanted it in maroon and then a popular makeup artist and then boom!!! Like I read on LoveWeddingsNG, it seemed as though 'someone sent out a peacock feathers hand fan memo'.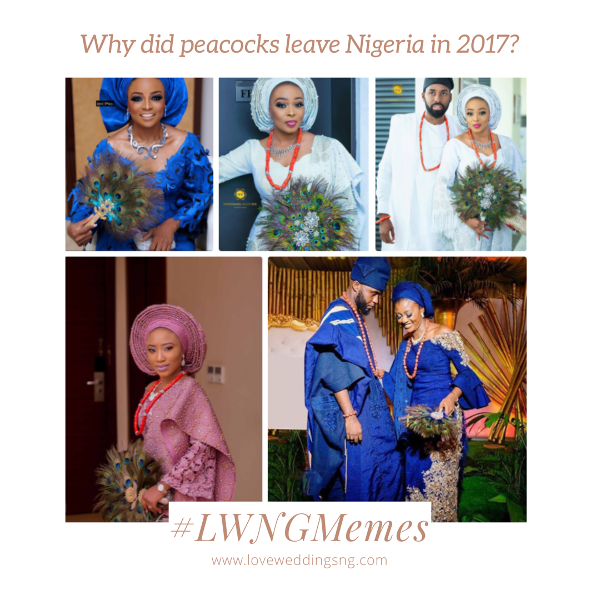 I am almost certain this trend is going nowhere anytime soon; but for the cost though. Contrary to what most people think and say, this hand fan can be worn with any outfit in any colour; some color combinations bring out the beauty more than others so it's best to seek professional advice before jumping at it.
About C'amaka Bespoke Pieces
C'amaka Bespoke Pieces is a Lagos based company that supplies bespoke bridal bouquets, hand fans, boutonnières, corsages, hair fascinators all handmade from scratch to finish and available to post within and outside Nigeria.
Picture credits: HB Pixels | Seyiturbo Studios | Klala Photography | Libarty Weddings | Gaff Multimedia |