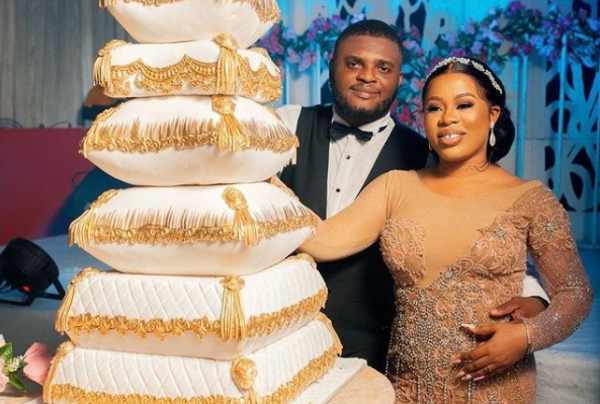 It's National Cake Day today (the 26th of November 2021). And to celebrate, we're featuring 10 wedding cake trends every Nigerian & African bride would love. From suspended wedding cakes, ruffle-themed cakes, wood effect cakes, and more, here's our list of wedding cakes you should consider.
All white cakes
Pure and perfect, we love all white-themed wedding cakes like these ones by The Create Company NG.
Introduction cakes
Gone are the days when introduction ceremonies were just simple, these days it's a full-on mini-wedding celebration featuring professional wedding vendors and even an introduction cake
Registry wedding cakes
Just like introduction wedding cakes, legally hitched wedding cakes are another wedding cake trend we've spotted. Civil or registry weddings used to be very low key in the past and couples definitely never bothered with cakes but we've seen more couples embrace this trend
Traditional themed wedding cakes
Whether it's kola nuts, palm wine guards, and/or calabashes, these make great additions to a traditional wedding cake
They are popular at both Nigerian and African traditional and white wedding ceremonies. Whether it's a single layer or a stacked pillow cake with multiple layers, with or without tassels, we're sure this trend is here to stay forever.
Whether they come as single tiers or in two tiers, we love this wedding cake trend.
Ruffle-themed cakes
We love ruffle-themed cakes and there are levels to this. You may remember what ruffle cakes looked like years ago, Nigerian & African bakers like ZZ's Gourmet cakes are bringing a modern twist to this popular wedding cake trend.
Suspended wedding cakes
Also called floating wedding cakes, this trend has been visible at a lot of Nigerian & African weddings for a few years now. We've seen all sorts and we love this trend.
This trend has always been popular at Nigerian traditional weddings. The treasure chest is symbolic as it usually illustrates the bride leaving her parents' home to start a new family and life together with her husband.
In 2017, wood cakes became very popular at Nigerian and African weddings particularly for couples whose events had a rustic theme. They were so popular that they featured in our 2017 African wedding trends report. Well, this trend is here to stay.
Bouqcakes
When it comes to bouqcakes, we know a brand that does justice to this trend – The Create Company NG is your plug.
Multi tiered wedding cakes
Black wedding cakes
It's not that often you see a black wedding cake but bakers like Tees Bakery and Honey Frosting make them perfect for wedding ceremonies.
Lace wedding cakes
We love this wedding cake trend that features beautifully intricate lace patterns, which can also be edible.
Rustic