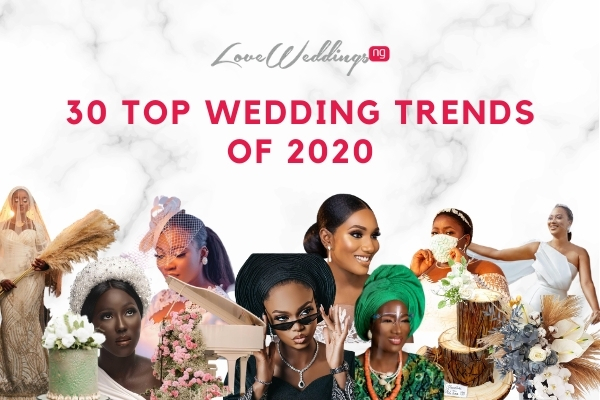 2020 will always be remembered as that year! This year saw everything happen and the wedding world was not immune. However, we're glad to see that despite the odds, 2020 weddings gave us lovely wedding moments to cherish. We almost thought we would have to skip this year's wedding trends report but we're so glad we didn't.
From Zoom weddings, the year of the civil wedding to low bun bridal hairstyles, sequel weddings, elaborate bridal suites, and more, here are 30 wedding trends we spotted in the year 2020. Enjoy!
Custom face masks: Let's start with the obvious shall we! COVID-19 meant no mask, no entry rules at a number of venues and couples embraced this trend and made it fashion. We saw all kinds of masks – from the Mr & Mrs. custom masks, wedding 'hashtagged' masks to blinged-out masks, here are some of our favorites from 2020.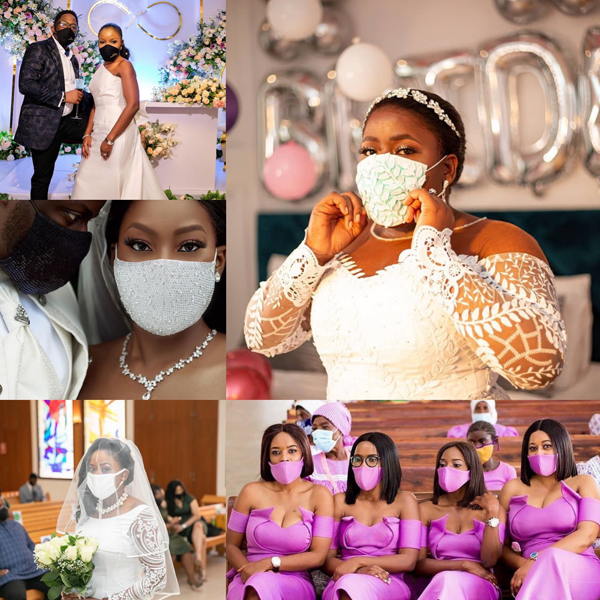 Face shields: Just when we started wearing face masks, we realised, OMG MAKEUP 😭😭 , and thank God someone thought of this solution already – Face shields to the rescue 🛡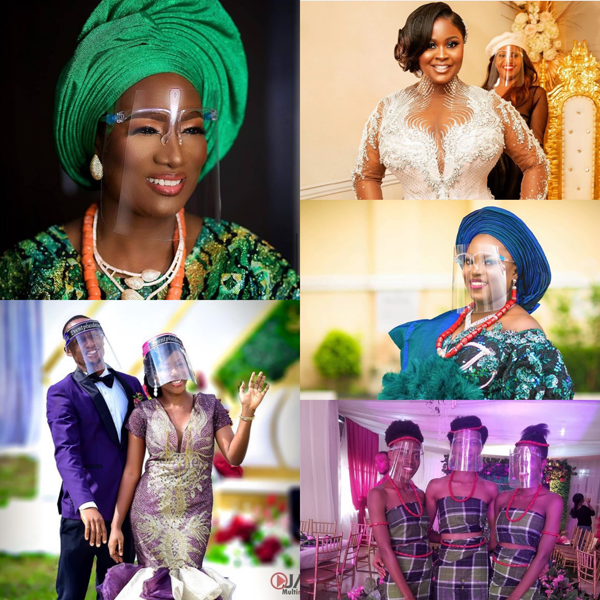 Zoom weddings: It'll be impossible to speak of 2020 without mentioning the word 'Zoom'. Zoom became that platform that kept all of us in touch and it definitely did its thing at weddings too. 2020 was the year that weddings went digital. We even saw virtual performances from MC's and DJ's (who would have thought this was even possible!)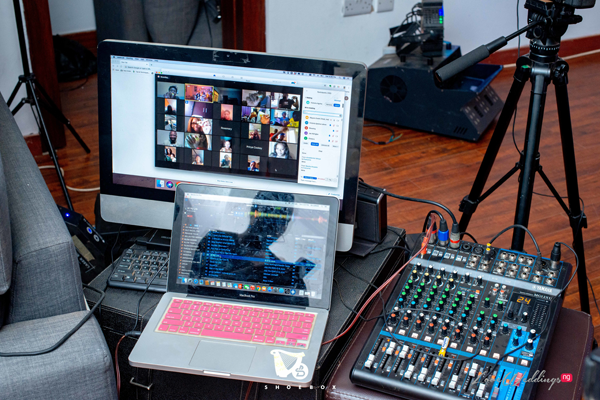 The year of civil weddings: Until now, civil weddings were always viewed as the underdog. Usually, couples showed up in decent outfits (but not over the top), usually with very few selected family members and close friends, if at all. There really was no need for a bouquet, a decorator, a caterer, a wedding cake, a reception, or even professional hair and makeup, etc. But this year, with all the restrictions, civil weddings became the only opportunity to celebrate their union for a lot of couples and this drummed up excitement for the ceremony. Couples booked beautiful venues, decorators, planners, and other vendors to ensure they had the best civil wedding ceremony and an optimal guest experience.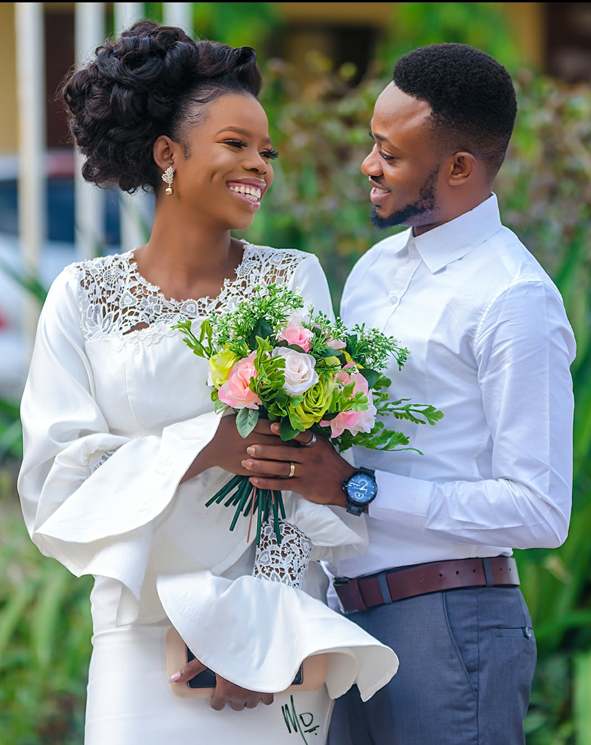 Weddings at home: After this year, never again would we look at our living rooms, backyards, and gardens the same way. As the COVID-19 pandemic imposed restrictions on social gatherings, couples and planners had to improvise! 2020 proved to us that these rooms and spaces were not just built for sofas, large TV screens, outdoor furniture, dining tables, and chairs. We saw decorators transform living rooms, backyards, hallways to wedding venues you see only on the pages of your favorite wedding magazine and blogs. Check out these 2020 weddings
Bold unstructured bridal bouquets: Bouquets made their mark this year. Brides weren't shy to go bold with bright, huge, unstructured, vibrant bridal bouquets; here are a few stunning bouquets we spotted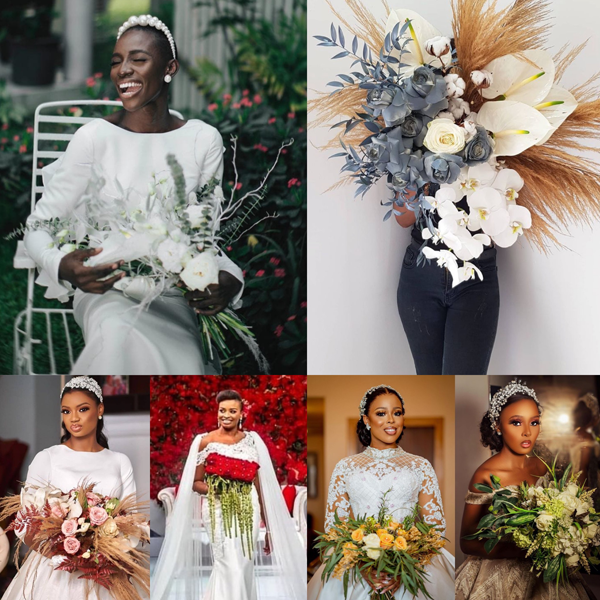 Black is back: In previous years, we've seen other colours like orange steal the show but black said No this year. Couples and wedding guests wore a lot of all black outfits this year compared to previous years particularly for their prewedding shoots and traditional wedding ceremonies.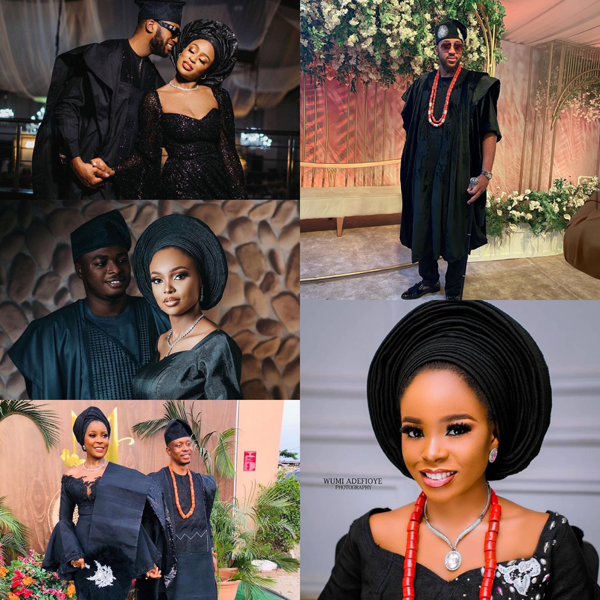 Mini wedding cakes: It used to be an unspoken rule for wedding cakes to have at least two or three tiers but this year, just like most things, couples and bakers scaled back. We saw single-tiered beautiful wedding cakes. Some couples even took it further by including individual wedding cakes in the giftbags handed over to guests as souvenirs. We love this idea!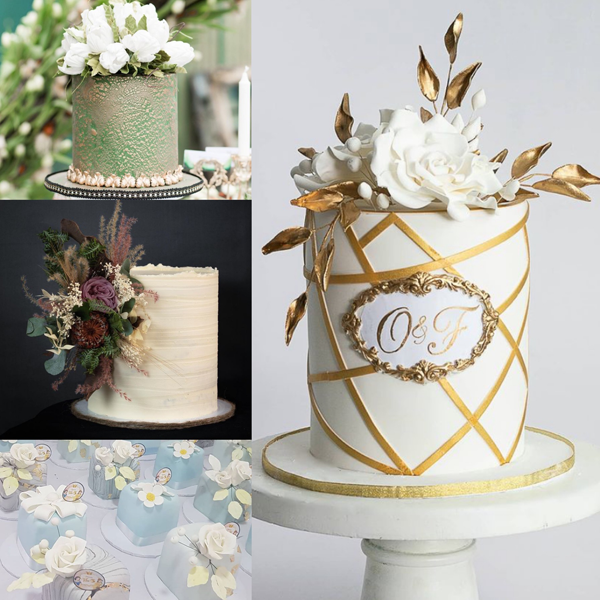 MARRY ME in giant letters: Just in case the question wasn't clear, grooms took proposals to the next stage by embracing giant letters. Giant letters are not entirely new to the scene but they used to be more popular at wedding receptions. We noticed more giant letters used during proposals this year particularly the ones that spelled out 'MARRY ME'. We love it and think it's the perfect backdrop for those stunning engagement photos we all love to see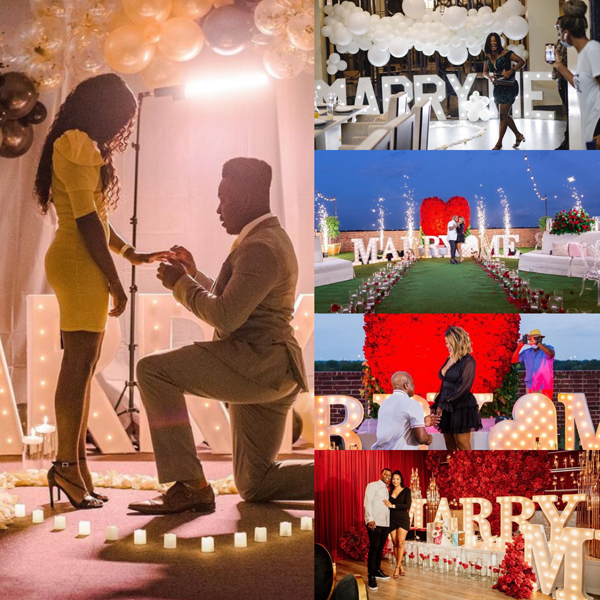 Micro weddings: The COVID-19 pandemic meant a lot of couples had to cut down the size of their dream wedding. And cutting down the guest list meant smaller and more intimate weddings overall. Some couples even took it to the next level by just getting married with only one or two witnesses present – a trend we're calling 'the Just Us' wedding trend or the 'mini-mony'. In some cases, couples also had elopement weddings, which usually means the couple go away to a destination to say 'I Do' with only the wedding officiant in attendance.
Low bun bridal hairstyles: Just like a lot of other elements this year, brides and their hairstylists scaled back their looks opting for low bun bridal hairstyles. These are usually perfect for civil weddings but we also spotted brides rock this sleek look at their white wedding ceremonies and receptions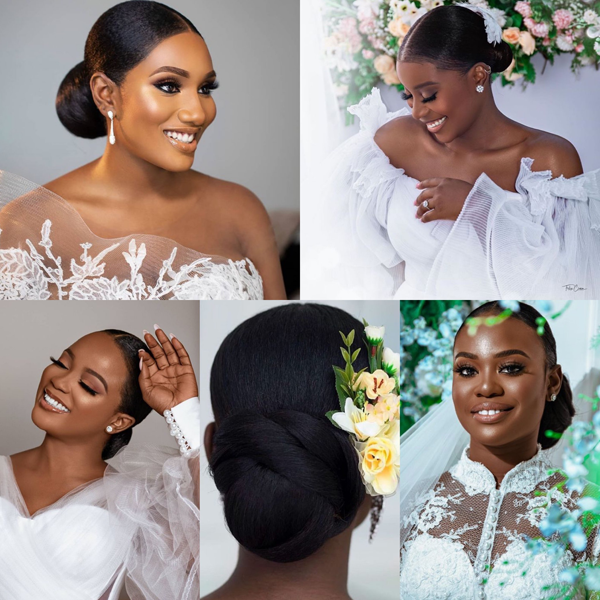 Grand pianos: Pianos really had a great year in 2020. Social distancing guidelines meant a lot of empty space in between tables, between guests, etc. and this space had to be filled with something classy still keeping in line with the theme of the wedding. Planners and decorators embraced using grand pianos as a statement decor piece at wedding ceremonies and the wedding reception.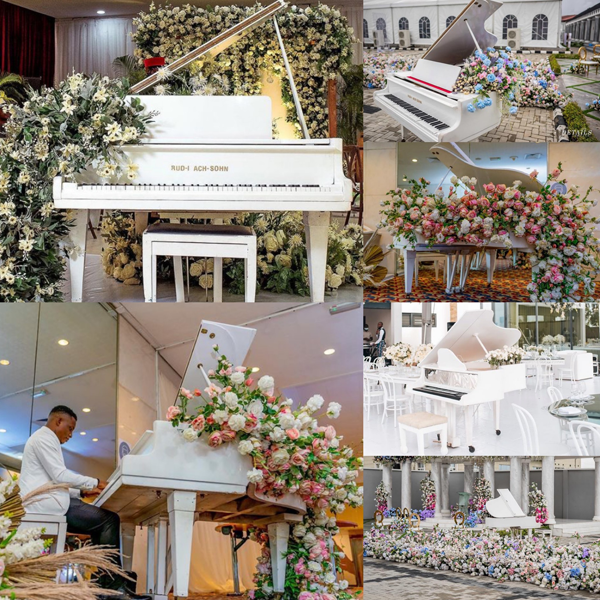 Satin: This is not a new trend; satin bridal dresses or looks actually featured in our 2018 wedding trends report but with the rise in civil weddings due to the pandemic and COVID-19 restrictions, satin came back in full force this year. We tried counting how many brides we spotted in satin this year and lost count.
Elaborate floral bridal suites: Brides got the VVIP treatment this year. It wasn't just a year to get aisle ready in hotel rooms or suites, we saw elaborate floral bridal suites become a thing this year. From …., we love this trend and hope its here to stay. It's also the perfect backdrop for pictures and can serve as a great photo area.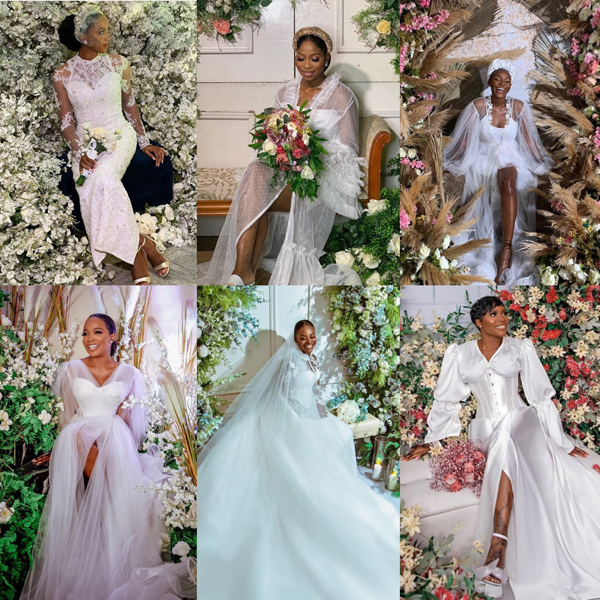 These shades: Prior to 2020, grooms were the shade kings but brides especially at their traditional weddings stole the crown. We're still investigating what gave rise to this trend but it doesn't really matter, we love it all the same.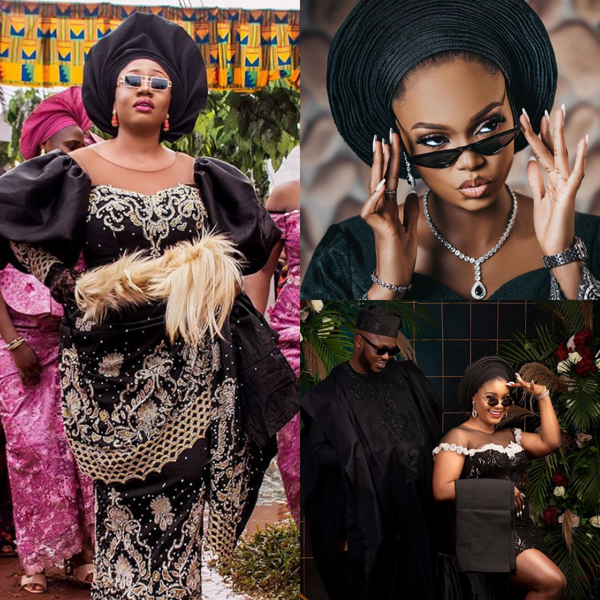 Food boxes or celebration boxes: Another COVID-19 inspired trend! As more couples and planners worked their way through maintaining health and safety guidelines, creating innovative catering solutions was inevitable so food boxes (celebration boxes) became a thing! These boxes had everything from appetizers, snacks to main meals, drinks, face masks, hand sanitizers, souvenirs and so much more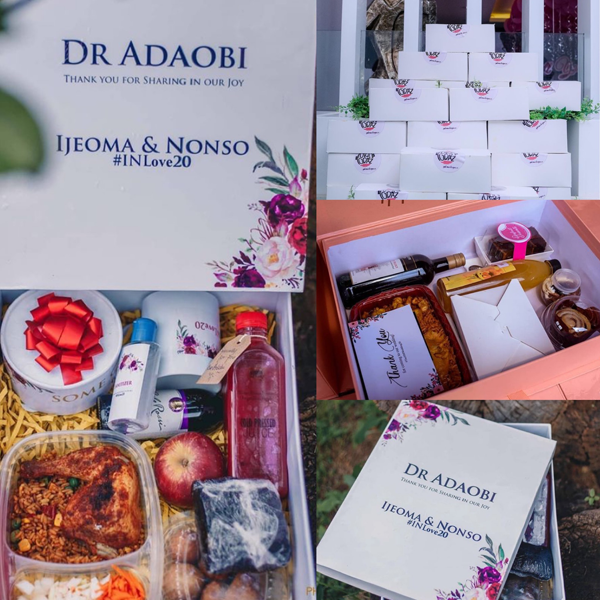 Plated meals over buffet stations: Closely tied to celebration boxes, we also noticed a huge spike in the adoption of plated catering service this year. This was particularly popular in countries with stricter COVID-19 restrictions such as the UK, especially in the early days. In countries like Nigeria, buffet stations are still quite popular so we believe this is a trend driven by government regulations.
For example, when events were still allowed to go ahead in the UK, one of the key guidelines was that these events could only take place on a strict sit-down meal basis. We see this continuing when the current restrictions get lifted and possibly for a couple of months into 2021 and beyond.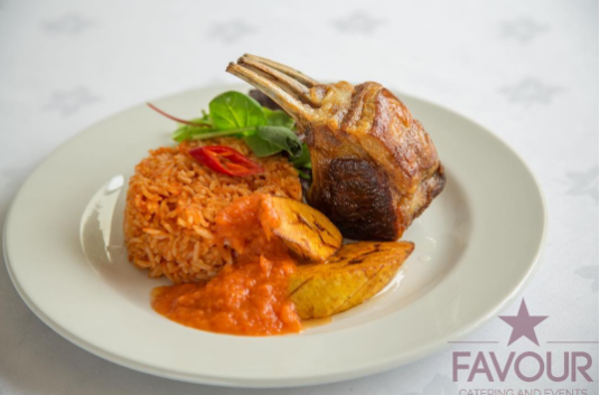 Pampas Grass: Never ever have we seen so much pampas grass used in our lives. From bridal bouquets to wedding decor, these statement pieces were definitely a favorite in 2020.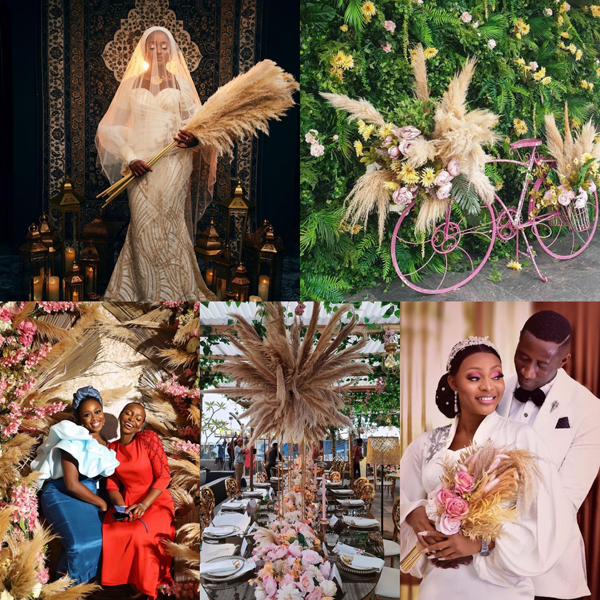 Huge statement bridal hair bands: From Alice bands to silk and pearl hairbands,
Bridal Jumpsuits and pantsuits: Jumpsuits and pantsuits are not completely new but we saw more brides rock this look this year. Collections such as Deji & Kola's SS21 Equilibrium collection also featured jumpsuits and pantsuits. We reached out to Nigeria's premier bridal stylist, Oluwatosin Agboola of The Wardrobe Manager (TWM) to shed some light on this trend and why it was so popular in 2020 and she shared;
First of all, Jumpsuits are so cool! It has a way of giving brides the freedom to be modern, unique, dramatic and chic at the same time! Now that weddings are a bit smaller and civil weddings are more popular (due to the pandemic), wearing pantsuits or jumpsuits and fascinators are a way of bringing drama to your look in an unconventional manner.

They're statement pieces on their own without having to do too much for the size and type of weddings that have been going on. Wearing pants or a jumpsuit is also the perfect way to style a look so it can be re worn even after the wedding ceremony.

For example, our client Laitan from #LStheUnion wore separates (a top and pants). People thought it was actually a jumpsuit. Her brief to us was – she wanted to be able to re wear her outfit elsewhere maybe to any party, dinner or cocktails. The top, pants and bird cage were a perfect way to incorporate her civil wedding look in a nice dramatic way to also show that she was the bride and it was her special day while still being able to re wear the look elsewhere in future. She mentioned "oh! I would pair it with a blazer if I want to wear it casually or with another nice blouse if I want to wear to a special event".
We've always been big fans of bridal jumpsuits so we stan!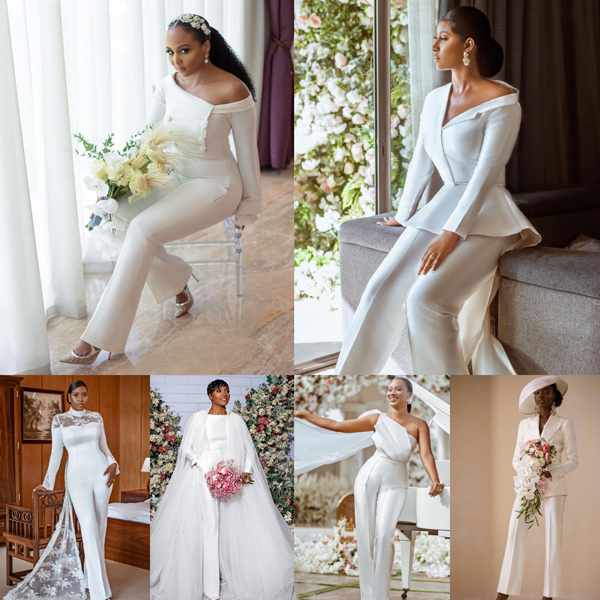 Wood effect cakes: These seemed to come back in full force this year. As early as May 2020, we had already spotted so many wood effect wedding cakes at Nigerian weddings.
Fascinators: From bird cages, to hats and more, we've loved how brides rocked this beautiful bridal accessory this year. Nigeria's premier bridal stylist, Oluwatosin Agboola of The Wardrobe Manager (TWM) shared; "fascinators are also a nice way to give a classic/vintage look that will always remain timeless."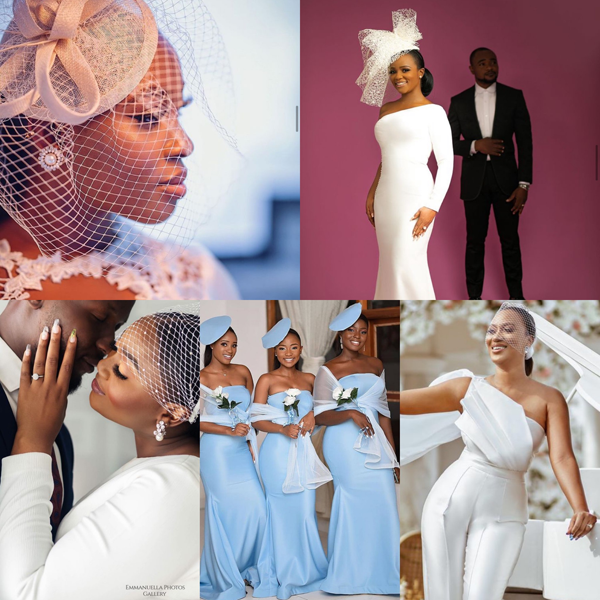 Other wedding trends we spotted include simpler wedding dresses, wedding-cations (domestic destinations), and conscious vendor sourcing.
Read our African wedding trend reports here