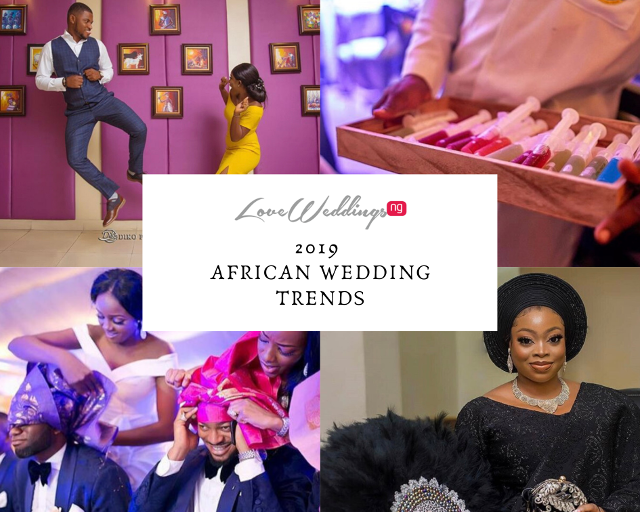 2019 has been a very interesting year for African weddings. It's that time of the year when we take a look back at all the wedding trends we spotted at African weddings and events in 2019. If you've missed any of our previous African wedding trend reports, catch up on 2014, 2015, 2016, 2017 and 2018
From vintage aso oke fabrics, damask coming back, the arrival of the bare traditional bridal hand fan, to the latest trending colour orange and more, here are all the wedding trends that took over the African wedding and events scene in 2019.
1. Orange is the new black
Orange was absolutely the colour of the year. From traditional brides to wedding guests and more, almost everyone rocked orange outfits and we totally loved it. We spotted this trend at #MrandMrsSho, #Beautyand9ice, #TheOYEUnion, #Oyinniyi19, #Kash2019, #TheHowells19, #RoadToForever2019, #DoyinGoesALLIn and many other weddings and events this year.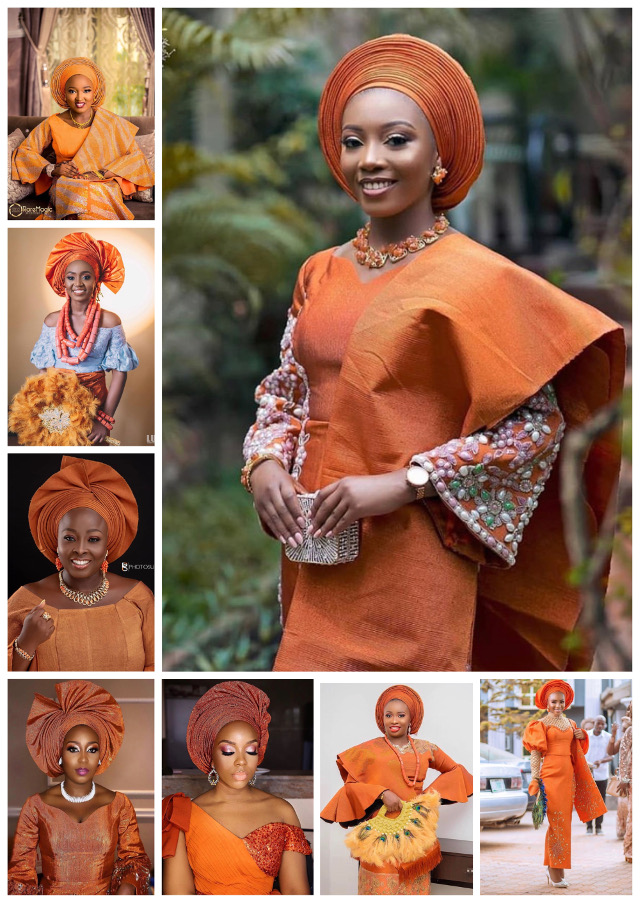 2. Corset bridal outfits
There was a corset memo this year for African brides and wedding guests and we totally got wind of it. From traditional bridal outfits to wedding gowns, we saw a lot of corset-inspired looks. Check out photos from this trend spotted at #TheBades19, #TheIBUnion, #TunrayCharles, #DGVibes2019, #TeddieMak, #ForeverIsraels, #4EvaBrights, #Whales2019, #OOPartyof2, #AK4Eva, and many more.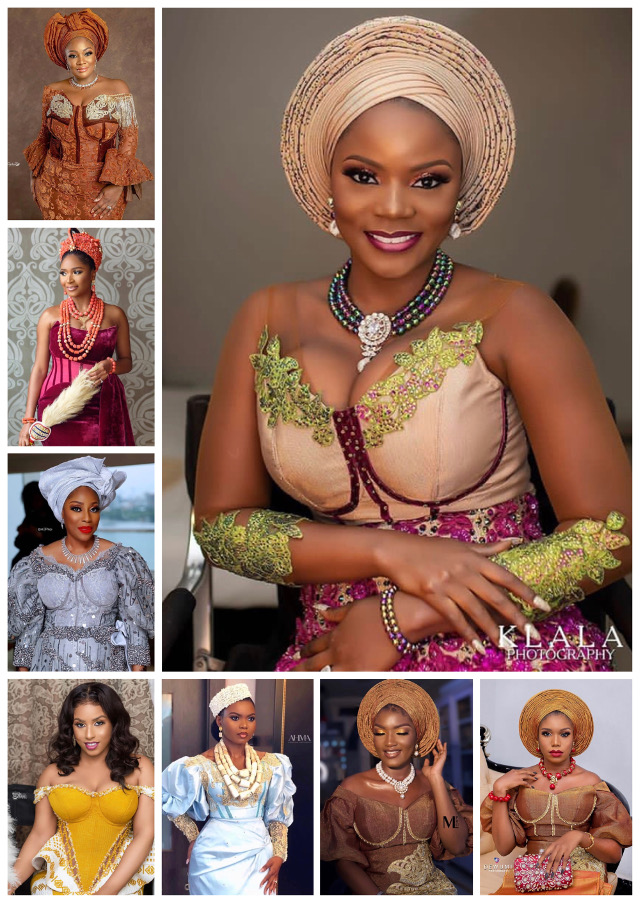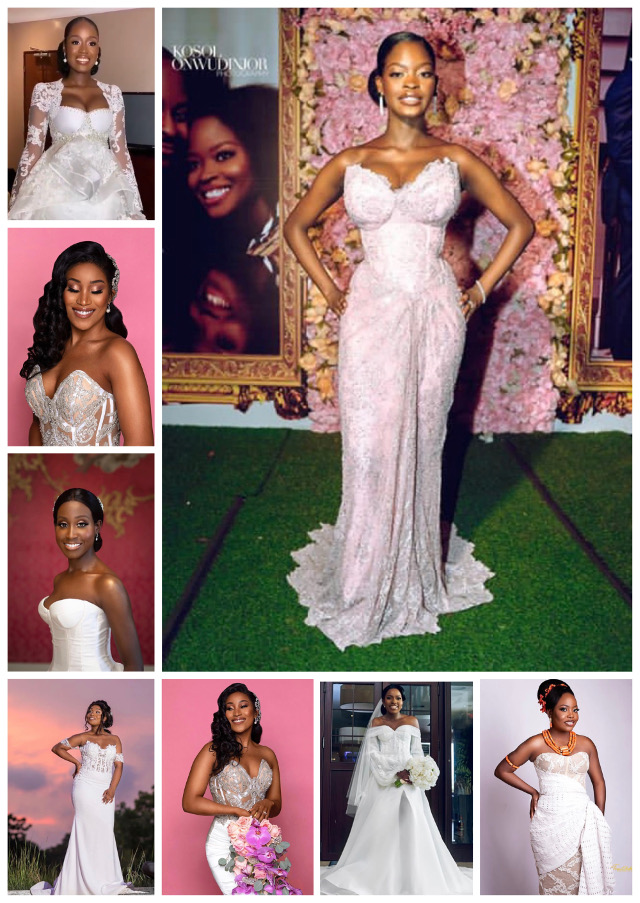 3. Zanku
Thanks to Nigerian music artists like Zlatan, Burna Boy and others, the Zanku dance move made it to our list of trends that rocked African weddings in 2019. Even if you're not a fan of the dance move, you'll agree that you've tried it at least once. Check out these couples and guests from #Bany2019, #Adnosa19, #GodisLove19, #RTInLove, #MandM2019, #NitoriYeye, #LoveinApril2019, #TamunoVickie, #Imoji19, #TheBades19, #GodIsLove19 and more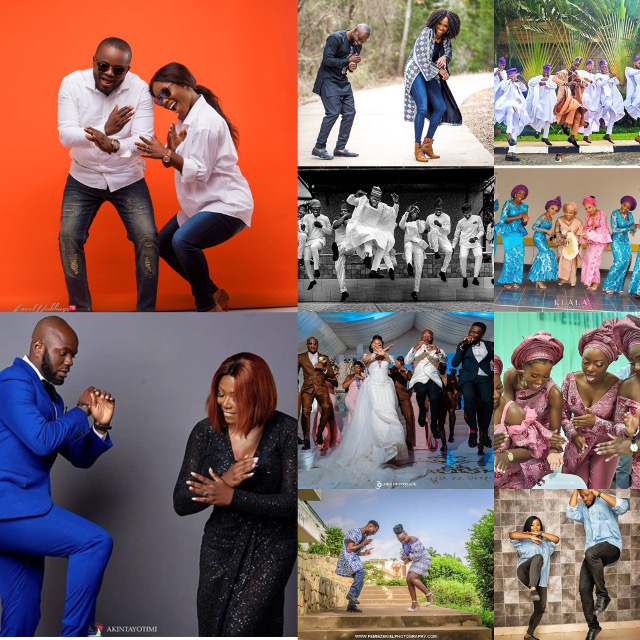 4. Fascinators & Hatinators are back
Fascinators are back and we love it! Bridemaids rocked so many lovely fascinators and hatinators at African weddings in 2019. We spotted this trend at #NanaNana2k19, #ValiJay19, #TwoScoopsofAkin.Check on it!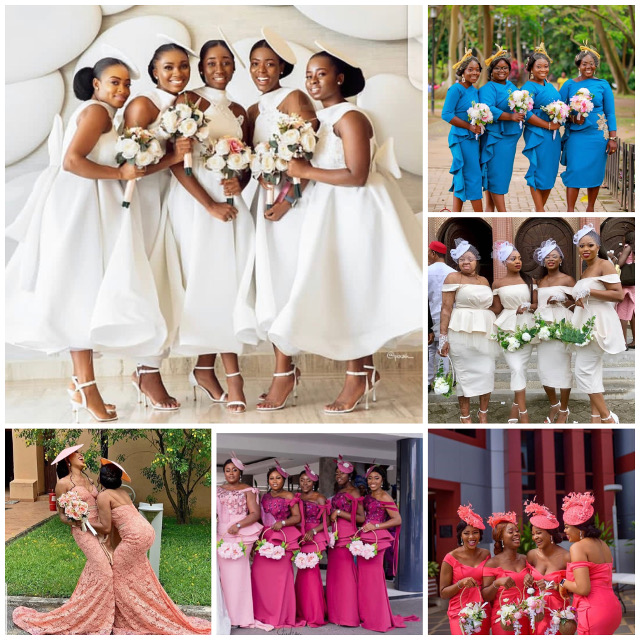 5. Vintage aso oke
If you remember a couple of years back, aso oke fabrics pretty much came in a set pattern but in various colours. This was until the new varied aso oke fabrics took over. 2019 couples took a step back and embraced what we'll like to call vintage aso oke – the original style/pattern of aso oke we first got introduced to. We spotted this trend at #TeddieMak, #BamTeddy, #MMALoveStory19, #FlightToForever19, #TheWorths2019, #Tades19, #Whales2019, #TheNAZWedding and #TheIBUnion.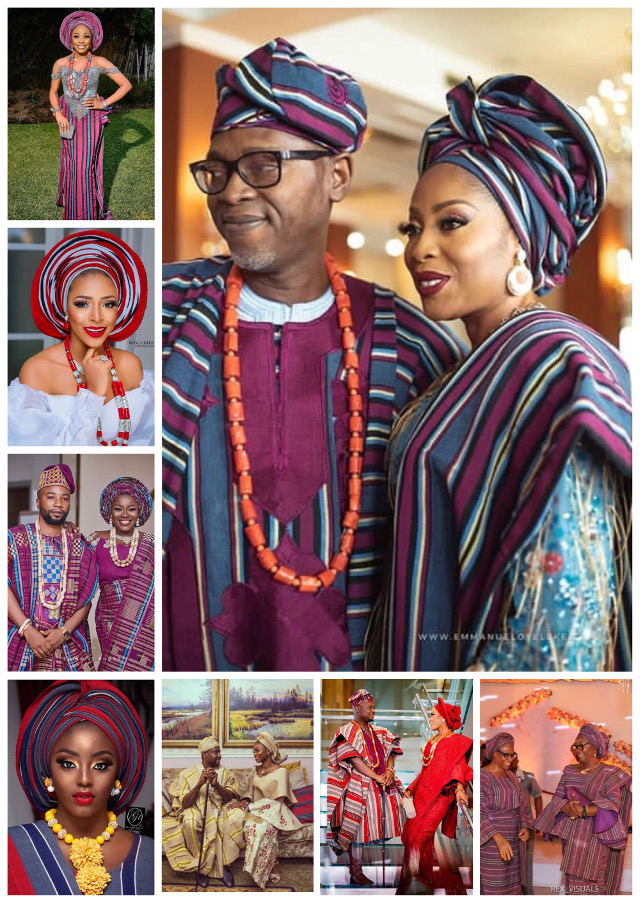 6. Damask is back!
Just like the vintage aso oke fabric, damask is back! Remember the days when damask reigned as the preferred head tie and ipele for African traditional brides. Well, the fabric we loved is back and its not just limited to head ties and ipele's, we saw a full bridal outfit made from damask at #TheRoyalBL2019. See some damask loving 2019 brides and guests below.
7. The rise of specialist caterers with more diverse food options
This year saw a rise in specialist catering companies offering local and street food straight to Nigerian weddings and events. With companies like Ofada Boy who have really raised the bar in supplying local dishes like palm wine, ofada rice, and more to weddings and events; this trend is a welcome development. This trend is really all about catering companies that have a signature dish or drink and specialise in this over other offerings.
For example, Corporate Garri is a brand that supplies garri, sugar and sides such as fried fish at weddings. Frozen Rolls is an ice cream roll shop that supplies hand-rolled ice creams to weddings and events.
Sooyah Bistro provides suya themed dishes; Psalm 121 Foods & Itar Chops provide small chops. We even spotted a company that brings Indomie noodles to you.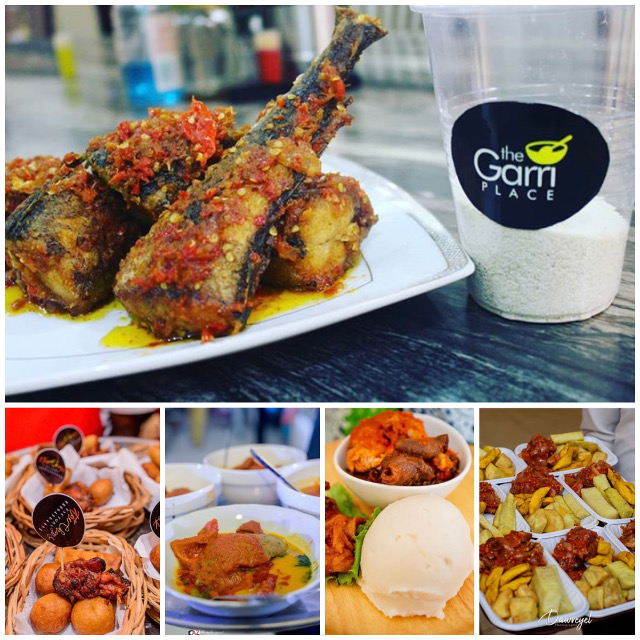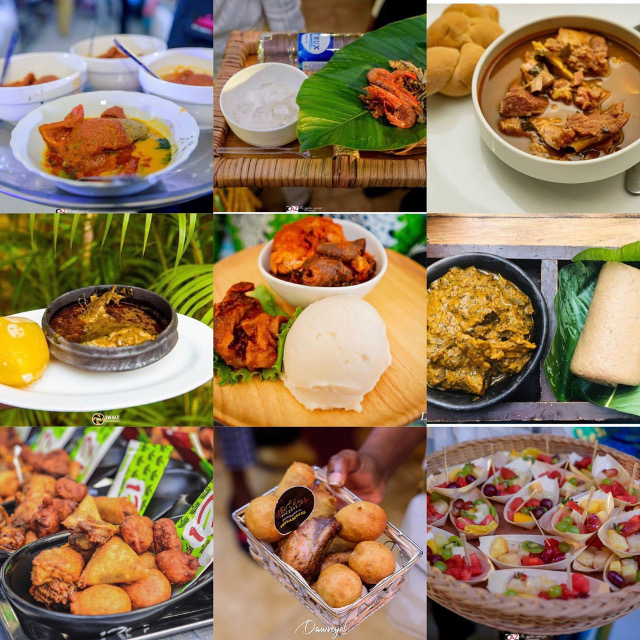 8. Two-toned aso oke fabric
Give us any combination of colours and we'll show you a two-toned aso oke fabric/outfit we spotted in 2019. From blue-green, green-orange, purple-green and more, we saw so many versions and shades of two-toned aso oke outfits at African weddings. This trend was so popular, we saw it at so many weddings including #NNRoyals, #GadesGold, #FadesCupofTee, #Sheroodee19, #ATushAffair, #TheBillysForever.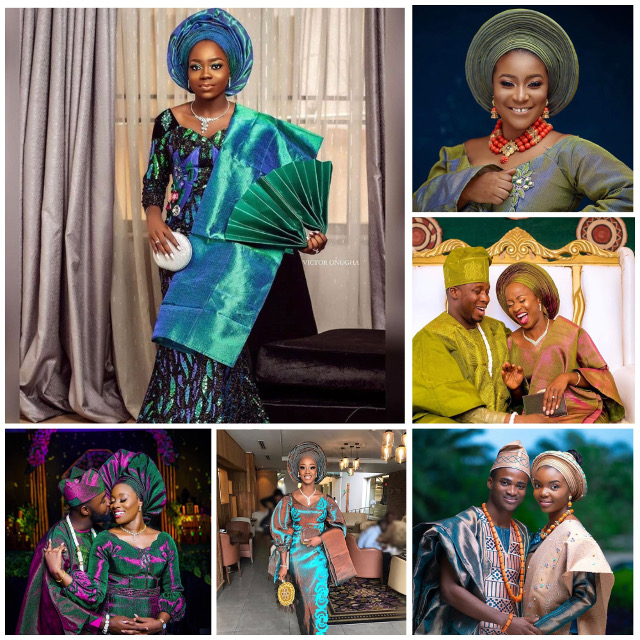 9. The Telephone booth
Hello, its LoveWeddingsNG here and we're still sharing the top 20 wedding trends we spotted in 2019. Next on our list is the telephone booth photo booth. We spotted this trend at #Beezy2019, #CJVintageWedding, #RA_2019, #DxG19 and #FlighttoForever19
10. No portable hand fan, no party
Arguably the accessory of the year, the portable hand fan was present at a number of weddings and events this year. Brides, grooms, wedding guests, everyone seemed to have one and we totally get it considering the African heat. As one of our followers said; "these fans are a blessing until you realise they're in every single photo on your wedding album." We're sure you don't need evidence but here are some photos from 2019 weddings such as #Beezy2019, #TeddieMak, #TheBillysForever, #MeettheCroods, #TheAKSareLit, #BFF19 and more featuring our favourite accessory.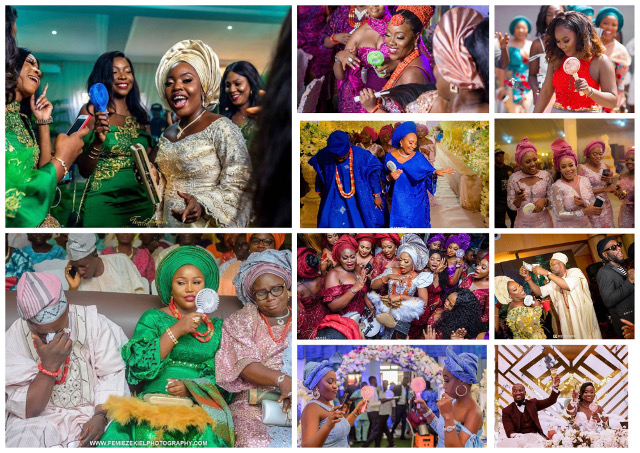 11. The 2-toned turban
The best things in life come in two shades. Yep, we say so. Two-toned turbands and gele's were a trend this year, particularly with northern brides. See some examples below.
12. Floral hoop bouquets
2019 brides and their bridesmaids said bye to bouquets and hello to floral hoops and hand wreaths. This trend seemed to really kick off after Ibrahim Suleiman & Linda Ejiofor's wedding last year. Since then, we think we've seen over 50 weddings that had brides and/or bridesmaids rocking the floral hoop or hand wreath trend. Check out these pictures spotted at #ValiJay19, #TED19, #AyoBola2019, #MICH19, #AJ19, #SheyNom19, #Modeux19, #UNForever, #Niko19, #Symanda and more.
13. Black bridal hand fans
There's always a new trend with traditional bridal hand fans. We saw a number of brides going all black with their bridal hand fans starting from late last year into this year. From #Bids2018 to #SeYinks19 and many others. Check on it!
14. Champagne wall
Who needs waiters or a bar when you can have a champagne wall. That was what a lot of 2019 weddings and events seemed to be saying. From #Carrismic, #LoveFromtheHill19, #TONE50, #TheAmaniWedding and more, here are some examples we spotted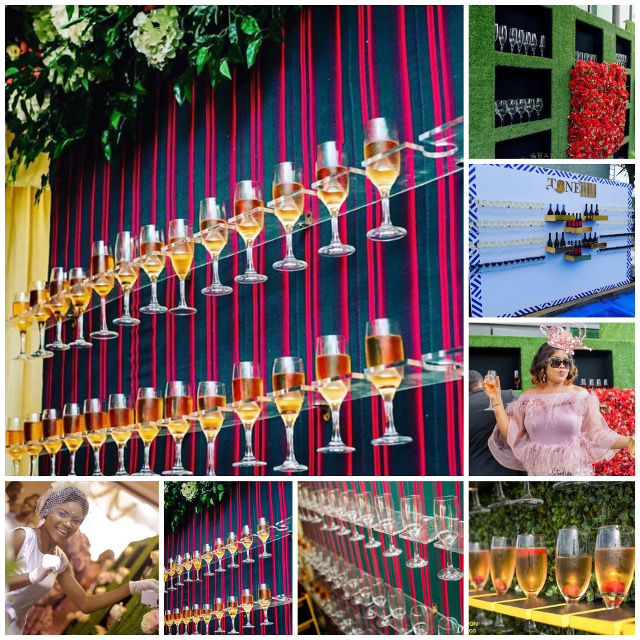 15. The gele reception game
We shared an article earlier this year titled 'Wedding Games & Activities for your Nigerian wedding reception'. Well, one game stood out this year – the Gele Game. In the past, the Shoe Game was pretty much the leader in this area but MC's got their gele's on and asked brides, grooms, wedding guests to get involved and we love it. This trend was spotted at #
16. The Awgzz Effect
When it comes to prewedding shoots this year, one photography brand stood out from every other brand out there. Nigerian photographer, Awgz (real name Moyo Osibamowo) created, sustained and perfected a growing trend of creative, fun, goofy and playful prewedding pictures. Not only has he nailed this trend; he has also inspired a number of other photographers to get on board. Here are some examples we spotted at The Akesuolas', #Imoji19 and more.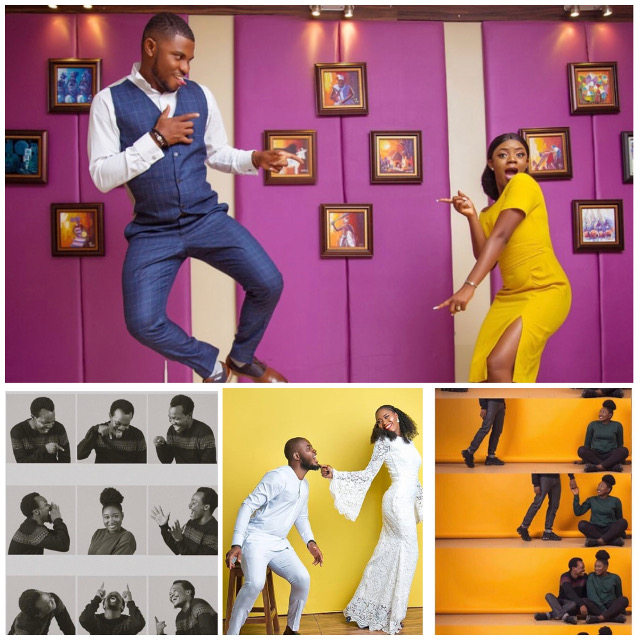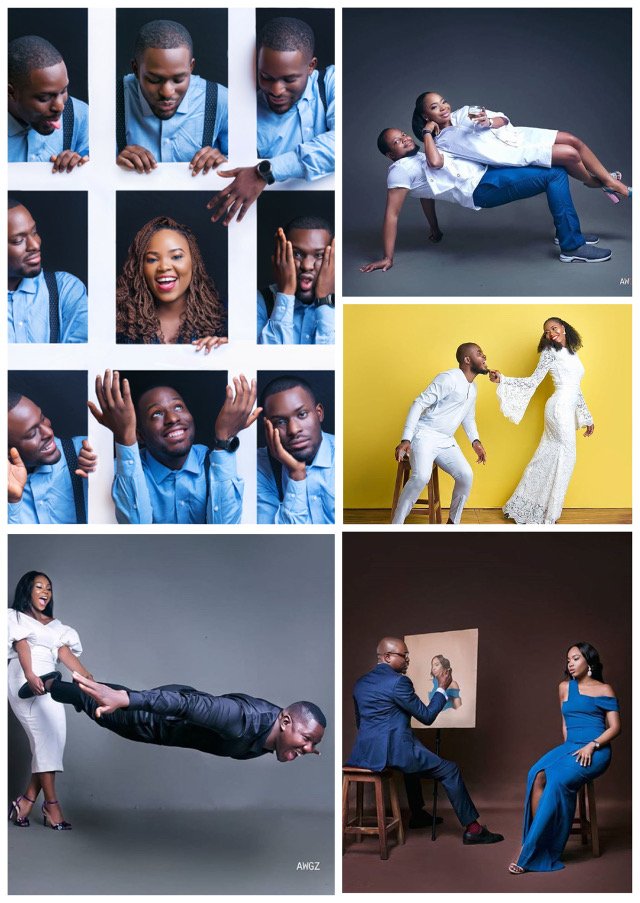 17. Champagne towers
Still on champagne, not only were champagne walls trending this year; we also had champagne towers in high demand. See some examples from #MeetTheCroods19, #TheBDUnion and a number of other weddings and events.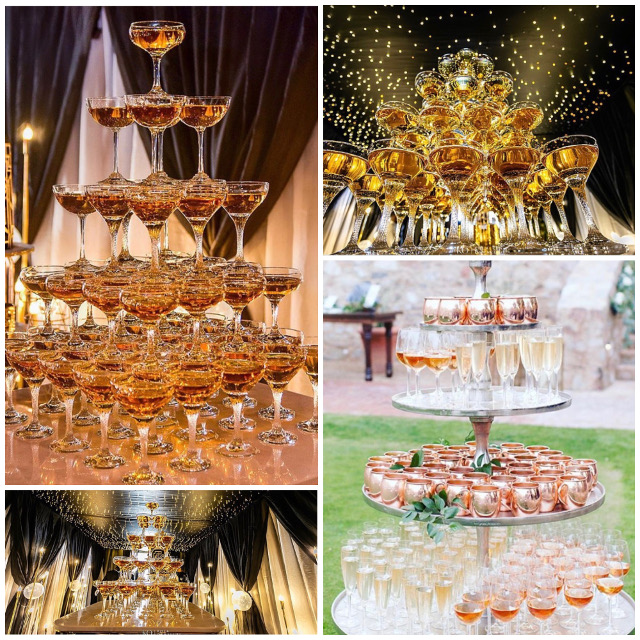 18. The floral car photobooth
The Telephone booth photo area wasn't the only trend that ruled, we also had what we'll like to call the floral car photo booth. This is very much a growing trend but we spotted it at a number of weddings and we believe, 2020 will see more of this trend. Check out these examples spotted at #FlighttoForever19, #OOPartyof2
19. The Bare Hand Fan
Traditional bridal hand fans never cease to amaze us. We thought we had seen it all; from peacock, ombre, the 360-degree hand fans and more but 2019 brought yet another traditional bridal hand fan and its bare but very functional. We spotted this trend at
20. Science themed cocktails
Cocktails were served in test tubes, syringes, pouches. We think we started spotting this trend when Olamide's song 'Science student' got released but 2019 gave it wings. See some examples from #TheFayoses19, #Djay19 and more.
So there you go that's our 2019 African wedding trends report. If we missed any trends, please let us know in the comments section.